High Visibility Strobe Led Safety Light 03
This product only available in the US
Acrylonitrile Butadiene Styrene frame
Glass lens
UV Protection Coating coating
PACKAGE OF 5: Suitable for most people - bring your pack of 5 different colors. Different colors are suitable for different weather conditions. Each is a special gift.
UNIQUE DESIGN: Enhanced PC Lenses and ABS Frame.
ABSOLUTELY SAFETY: It fits closely to your face around your eyes to protect you from water, dirty dust, bright sunshine, strong wind and thick snowfall.
ADVANTAGE: Comfortable, safe and wind-proof - Made of high-quality multiple-layer foams, the padding ensures cozy wearing.
High Visibility Strobe Led Safety Light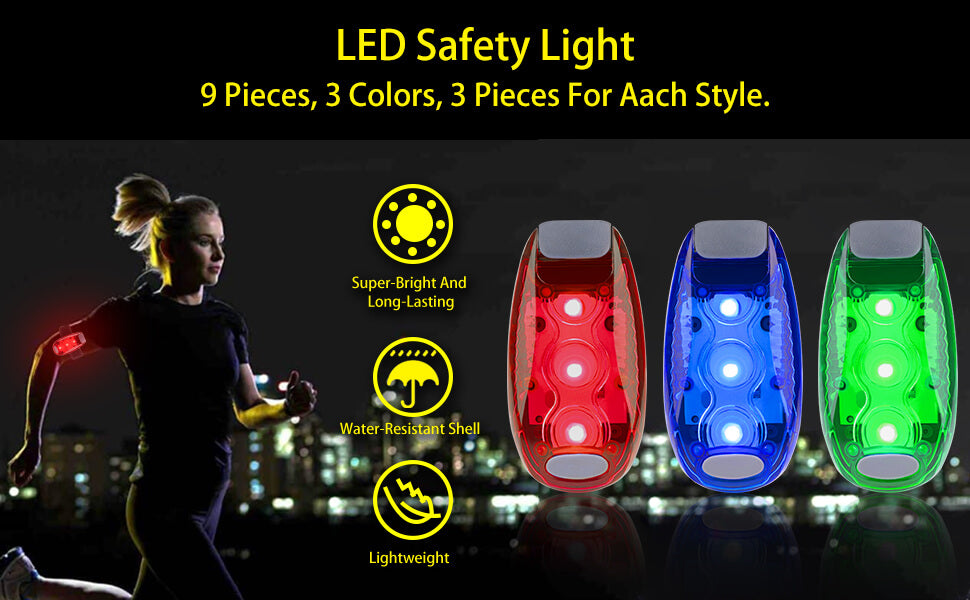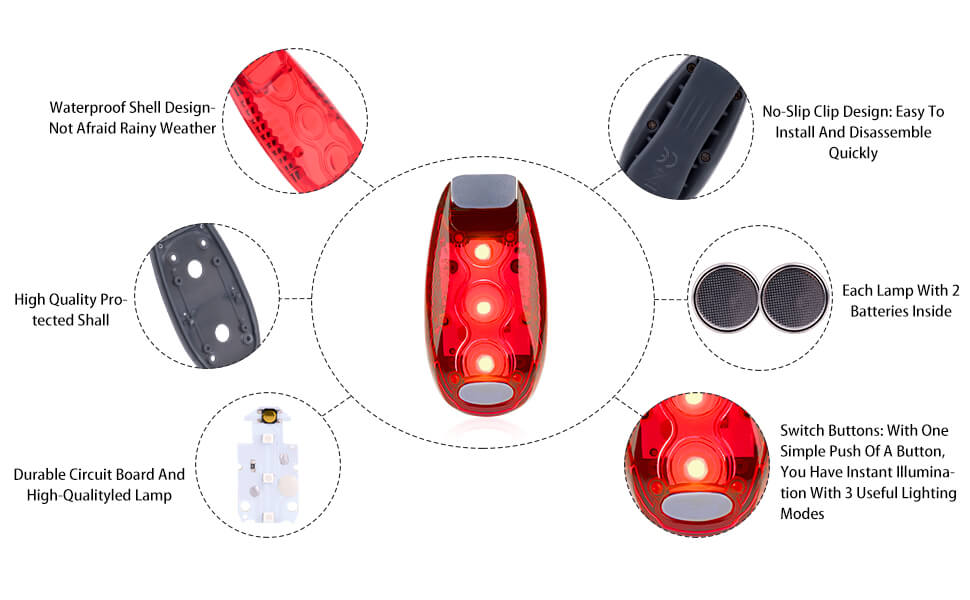 More Details for High Visibility Strobe Led Safety Light
Package Includes 9 Pieces And Three-Color;3 X Red 3 X Blue 3x Green, Each Lamp With 2 Batteries Inside, 9X Mini Screwdriver (For Easily Opening The Back) 9X Adjustable Velcro Straps For Mounting, Attaching The Light To Children's Scooters/Bike Posts, For Headlight Or Tail Light, Dog Collars, Leashes, Helmets Etc.
Material: Made Of ABS Plastic & High-Quality LED Lamp; Durable And Not Easily Damaged, Slim, Lightweight, Super-Bright And Long-Lasting, Powered By Two Coin Batteries (CR2032), Lasting Up To 96 Hours; Suitable For All Bicycle.
Three Modes Of Switch: The Led Safety Light Can Be Support Full Light, Fast Flash, And Slow Flash Mode, With One Simple Push Of A Button, You Have Instant Illumination With 3 Useful Lighting Modes; These Three Modes Help Or Alert Other Riders, Drivers, And Walkers Spot You When Riding In Low Light Or Complete Darkness.
Feature: These Led Safety Light Easy To Use, Strong, Easy To Install Quickly, Without Any Tools Required, Waterproof shell Design, The No-Slip Clip Attaches Easily And Stays On Securely, Clip-On To Your Belt, Pockets, Backpack, Anywhere On Your Clothing, Or Onto The Included Elastic Velcro Straps.
Multi-Function: Versatile Blinking Warning Light, Conveniently Portable, Take It Anywhere With You. This Essential Safety Item Has Many Outdoor Activities Uses: It's Perfect For, Runners, Joggers, Cyclists, Children, Walkers, Climbers And So On! Be Safe, Be Seen By Motorists From A Distance, And While Doing Sports At Night, Dawn, Dusk, Misty Mornings And Rainy Days. It Is The Best Choice For A Wide Variety Of Applications.