Men's Windproof Fleece-lined Hiking Pants 06
Fits Your Winter Boots — Adjustable Ankle with Buckle Closure, Mens snow pants can cover your boots
Keep Warm — Inner layers are made of warm skin-friendly fleece, Ski Pants men can effectively prevent the cold air from being poured in and lock the heat.
Water Resistant & Windproof — The surface layer is made of Four-stage water-resistant treatment fabric and windproof fabric, effectively block liquids, cold wind
3D Cutting Design — Mens snowboarding pants uses a steric knee cutting design to ensure freedom of movement
Zippered Pockets — Equipped with 2 side pockets and 1 rear pocket with zip puller
Multifunction — Our snow ski windproof pants men ideal for winter hiking, camping, traveling, climbing, skiing, fishing, jungle
100% Polyester
| | | | |
| --- | --- | --- | --- |
| US Size(in) | Waist | Hips | Inseam |
| S | 29 - 31 | 35 - 37 | 30.3 |
| M | 31 - 33 | 37 - 39 | 30.3 |
| L | 33 - 35 | 39 - 41 | 30.7 |
| XL | 35 - 37 | 41 - 43 | 30.7 |
| 2XL | 37 - 39 | 43 - 45 | 31.1 |
| 3XL | 39 - 41 | 45 - 47 | 31.1 |
| | | | |
| --- | --- | --- | --- |
| DE Size(cm) | Waist | Hips | Inseam |
| S | 74 - 79 | 89 - 94 | 77.0 |
| M | 79 - 84 | 94 - 99 | 77.0 |
| L | 84 - 89 | 99 - 104 | 78.0 |
| XL | 89 - 94 | 104 - 109 | 78.0 |
| 2XL | 94 - 99 | 109 - 114 | 79.0 |
| 3XL | 99 - 104 | 114 - 119 | 79.0 |
Men's Fleece-lined Windproof Hiking Pants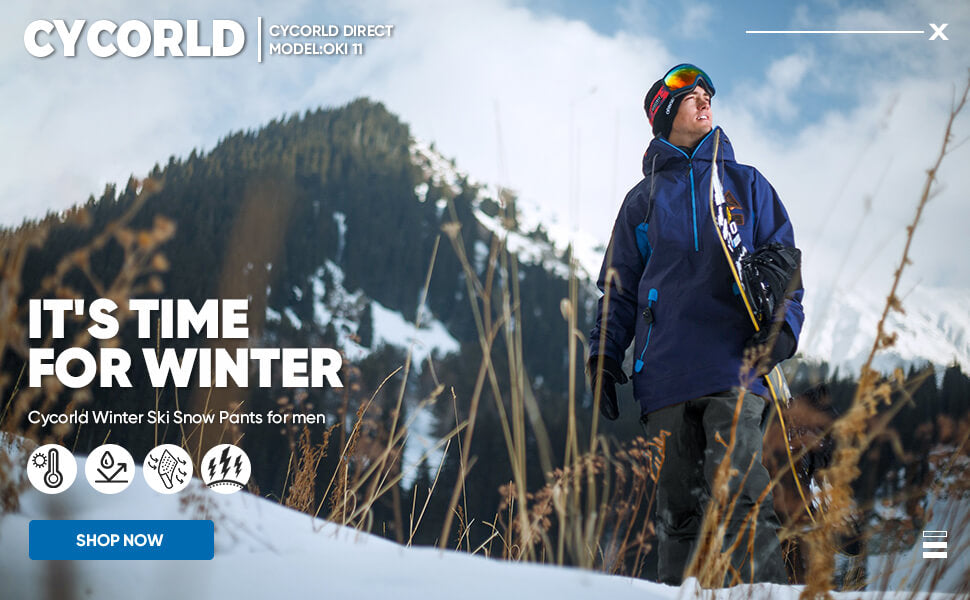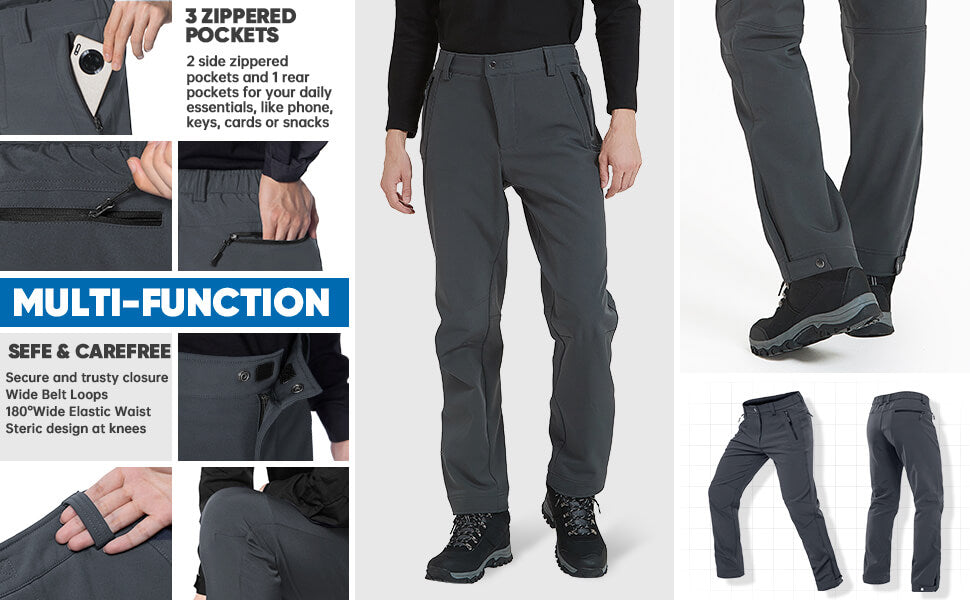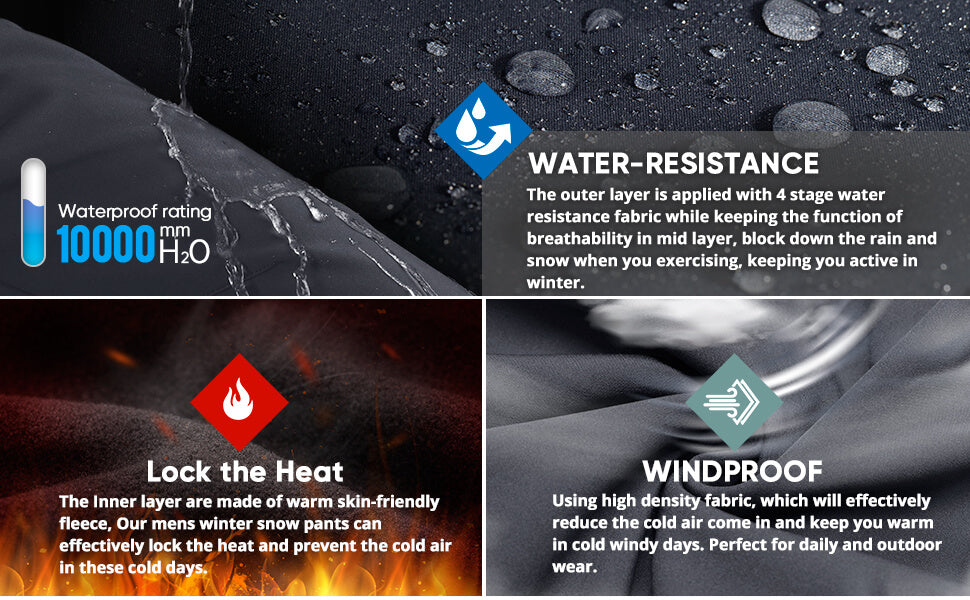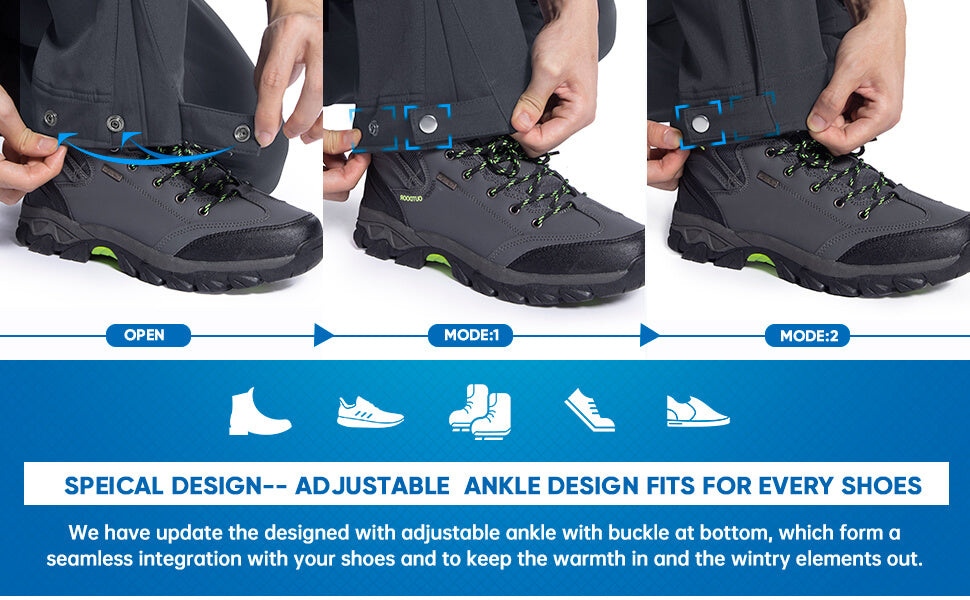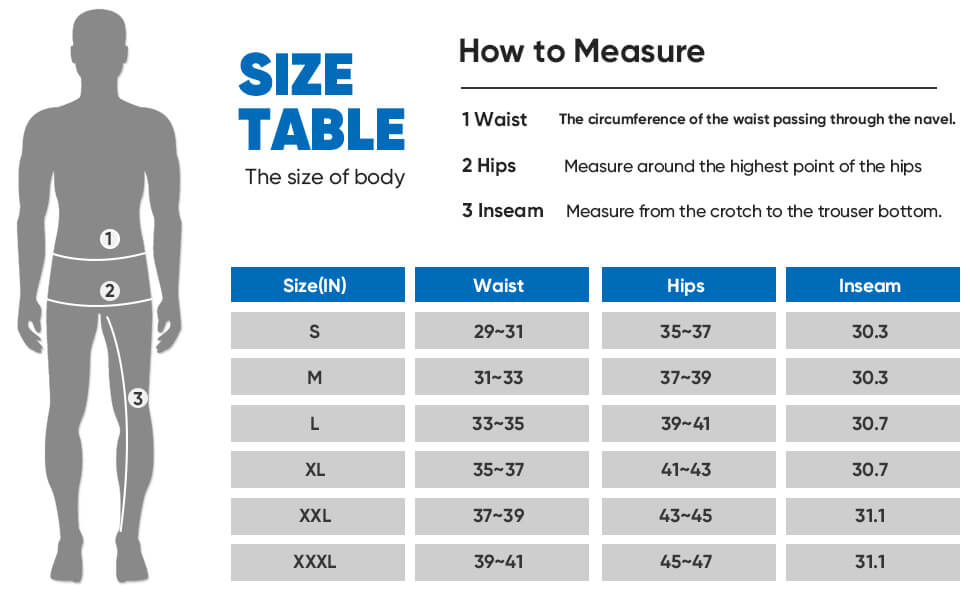 Video introduction
More Details for Men's Ski Fleece-lined Windproof Hiking Pants
100% Polyester

Fits Your Winter Boots — Adjustable Ankle with Buckle Closure, Mens ski snow trousers can cover your boots to keep warm ​and the wintry elements out.

Zipper closure

Keep Warm — Inner layers are made of warm skin-friendly fleece, Ski Pants men can effectively prevent the cold air from being poured in and lock the heat.

Water Resistant & Windproof — The surface layer is made of Four-stage water-resistant treatment fabric and windproof fabric, effectively blocking liquids, cold wind, keeping your body warm and dry.

3D Cutting Design — Cycorld mens Fleece-lined windproof pants use steric knee cutting design to ensure freedom of movement, high-quality fabric is scratch-resistant, anti-pilling.

Zippered Pockets — Equipped with 2 side pockets and 1 rear pocket with zip puller, big and deep enough to help you store your item.

Multifunction — Our snow ski pants men ideal for winter hiking, camping, traveling, climbing, skiing, fishing, jungle and other winter sports or daily dress.