Which hiking pants do I need?
Hiking pants must be able to do a lot more than just look good and are faced with tough challenges. They have to prove themselves in the wind, rain, heat and rough terrain and always support you reliably.
If the pants do not fit perfectly or the fabric does not breathe, this may not yet have a worse impact in the office or during a stroll through town. But at the latest after the first longer tour in only mediocre-fitting jeans, most people become painfully aware of where the problems lie. Chafing, a clammy feeling or unwanted insights when tying the shoes are just some of the unpleasant consequences.
Hiking pants, on the other hand, are specifically tailored to the demands of constant movement in terms of function. And they get you to your destination in a much more relaxed and comfortable way. We have summarized here what you should look for when buying your new hiking pants.
Contents
1. The right cut can work wonders!
The right fit is the be-all and end-all. But even here, you usually hear two completely opposite pieces of advice. Some recommend pants that are as tight-fitting as possible so that the fabric has little air and thus little chance of chafing or flapping. The others advise a cut that is as wide as possible, so as not to feel constricted and to achieve good ventilation. Both positions are right with their arguments, but which is right for you depends on your taste on the one hand and on the material on the other.
As flexible as you
Elastic hiking pants can and should fit a little tighter. The freedom of movement is achieved by the stretchy material so that a wide cut would only disturb here. The body-hugging fit can also ensure that moisture is absorbed more quickly by the skin and transported to the outside. Many elastic models are made of thin or thick soft-shell fabric and thus bring water and wind-repellent properties. The pliable fabric also makes it easier to wear long underwear underneath without creating a constricting feeling.
Really comfortable, even without stretch
If the hiking pants aren't made of extremely stretchy material, there are a few small details that give you much better freedom of movement. Strong cotton blends don't give way under stress. So special cuts can ensure that the material doesn't bulge, or the seams are too stressed under tension.
Textiles made from stronger blended fabrics in particular are often a little curved in the knee area and occasionally also have more robust or elastic inserts. This allows you to move your feet optimally even when ascending and descending difficult terrain, kneeling or climbing in between. The slightly curved cut ensures that the material does not stretch when your knees are bent and, conversely, does not wrinkle when you stand up straight. In addition to the pre-shaped knees, some pants also have an additional fabric insert in the crotch. This allows you to jump over the nearest stream or climb trees, for example, without the pants tightening in this area or, in the worst case, even tearing. The non-elastic pants are basically cut rather wider so that even with more extreme movements the fabric does not stretch and also constant ventilation can take place.
For a good tummy feeling
There are several ways to achieve a snug fit with the top waistband. Either it's equipped with elastic inserts, Velcro or integrated belts, or you'll have to use a belt yourself if the waistband doesn't fit perfectly. Either way, the basic rule is that a little too much room can still be regulated, but so little room cannot.
So make sure that the waistband is not too tight in any case. Variants with the elastic waistband or Velcro tabs have the advantage that they do not press so much when the hip belt of the backpack over them. With some belts, it can happen that it presses uncomfortably under the hip belt. So even the smallest details can make the difference between an all-around great tour and an uncomfortable lesson. Of course, not only the right fit but also the right size is crucial if you want to find the right hiking pants.
2. Don't compromise on the right size!
First of all, good news and bad news in one: every manufacturer interprets the size specifications differently, and every piece can turn out differently. The good news: You don't have to feel bad if the size doesn't fit that you can normally wear without any problems. The catch: Due to this different size conversion, the orientation is sometimes difficult. For this reason, you will find a size recommendation and also the customer reviews can be an important indication of whether the respective garment is normal, larger or smaller. To ensure that the pants fit perfectly, you should always pay attention to the size. At the end of a successful hike, no one is interested in the number on the small tag on the waistband. To find the right hiking pants for every stature, we have a wide range of available sizes.
How do hiking pants need to fit?
On the one hand, the right length is crucial so that the ankles are sufficiently covered without the fabric dragging on the ground and thus wearing out faster. For another, length also plays a role in zip-off pants with pre-shaped knees. After all, you don't want the zipper or molded knee area to sit too high or too low. To help you assess whether the size and cut are right for you, here are a few practical tips for trying them on.
What you should pay attention to when trying on?
Even though you obviously can't do a full march in the store or at home, there are a few things you can do to test your hiking pants:
Sit down. While you'll mostly be walking when you hike, you don't want them to be uncomfortable when you're taking a break or traveling back and forth.
Bend your knees and pull your knees up while standing. If you have the opportunity, go up and down a few flights of stairs. After all, if you want to take a picture of a flower, light a campfire, or tie your shoes, you don't want your fellow hikers to get an involuntary glimpse.
And also the freedom of movement during ascents and descents is tested at least to some extent.
And last but not least, you should of course walk a few steps to see if they constrict you in any way, restrict your movement or if they chafe. With these tests, you can find the right hiking pants and save yourself a lot of trouble.
If you already know your size and the right cut, you may be wondering which type to choose. The variety finally curses and blessings at the same time. We help you find the right model for your activities.
3. Which type suits me?
They come with many or few pockets, such as T-zip-off pants with one or more detachable segments, or roll-up. The transitions are sometimes fluid so some of them fit into several categories at once. Each type has its advantages and disadvantages:
Normal pants: The classic straight standard model
They come without any frills. They have a straight cut and thus save the weight that comes with additional loops, buttons, and zippers. Many appreciate them for their small pack size and everyday look, which doesn't look too much like outdoor clothing even when you visit a restaurant after a trek. Mostly they are available in lightweight fabric, cotton or cotton blend fabric, which makes them suitable for everyday wear and leisure activities. However, the disadvantage is also obvious. The minimalist pants can be rolled up at most when it gets warmer, which usually moves back down after a few steps without fastening. They also offer little storage space for valuables, gear or guidebooks, so more luggage has to be stowed in a backpack or hip pocket. For longer hikes in warm areas, you also need to take an extra pair of shorts.
Zip-Off pants: The quick-change artist
The legs of zip-off pants can be removed via a zipper or can be zipped off. Some models can be shortened to the length of either short, 3/4 short, or both. This type of trekking pants is available both as straight stretch pants and in the form of cargo pants and is particularly suitable for longer tours.
By combining the short and long versions into one, you save the weight of additional shorts. On all tours where you carry the luggage on your back, this weight saving can make all the difference. Most of the time, when hiking, the pant legs get dirty first. Zip-offs allows you to wash the lower leg sections separately without having to change completely right away. Some of them not only have an all-around zipper on the leg, but also a side opening so you can remove the pant legs on the mountain without taking off your shoes. Pants without this side opening have the corresponding disadvantage that the detached parts are either around the ankles until the next stop, or a break is needed to take off the shoes. Another disadvantage for some is that the zip-off Bermudas do not necessarily meet the fashion requirements for work and everyday life (which, of course, varies according to taste). However, since it is primarily intended for outdoor, this criterion should not be the deciding factor.
Roll-Up Pants: For those who prefer rolling instead of zipping
Hiking pants with roll-up legs are visually a bit more discreet than zip-off shorts and add less extra weight than zippered models. There is usually a button on each side. When the pant leg is rolled up, a loop is revealed that is attached to the button and holds the leg up. Here, too, there are different solutions, which set the fastening sometimes higher, sometimes lower.
The disadvantage is that the carded fabric, and therefore its weight, remains permanently on the knees and dirt can collect in the crease. All these different shapes are made of different fabrics, depending on the design. So that you always feel comfortable in terms of temperature and moisture balance, there are also a few things to consider here.
4. The right pants for every climate
Outdoor pants are as varied as the destinations. Depending on where you're headed or what season you're touring in, different pants are suitable.
Rainy and windy climate
Rain is not always rain. A heavy shower in stormy autumn has a completely different effect than the redeeming downpour on a sultry summer day. If you're expecting prolonged rain in cool seasons and regions, waterproof overtrousers are a good choice. This will keep you permanently dry, and you can easily remove the wet overpants after the shower. In humid weather, a waterproof option would tend to make you sweat even more. Here again, soft-shell pants are well suited, which dry quickly again, are water-repellent and have much higher breathability than rain pants. Many other designs are provided with a DWR (Durable Water Repellent) impregnation or Gore-Tex membrane. However, this will wear down due to friction after each wash, so you'll need to refresh it after a while.
Snow and ice
For winter hiking or cross-country skiing, lined, windproof pants are the best choice. The colder it is and the less you move, the thicker the lining and insulation should be. Conversely, thin padding is often enough if you're constantly moving. If it's so cold that you can hardly expect rain, but rather snow, water-repellent models will suffice. However, if you're going to be out in the snow for a long time, or if the weather turns the area into slush, you won't be able to avoid a waterproof version. However, it should always be windproof, so that the warmth developed inside is not blown away by the headwind on the descent or by the winter storm. 
5. What makes a good pair of hiking pants?
It is still felt that 50% of hiking fans go hiking in everyday pants and jeans. Yet functional hiking pants offer a significant plus in comfort, freedom of movement and weather protection in many respects. Special hiking and trekking pants make life easier and the hiking fun noticeably greater.
Perfect fit
First of all, you should make sure that you get a perfect fit. You must choose one in the store that is actually available in your size. Pay attention to a suitable waist size. Appropriate adjustment options allow for individual adjustment. A belt also proves its worth in everyday outdoor use, whereby it must have enough loops so that it always sits in the right place. A comparison of different models is worthwhile when trying on. Quite decisive here are the right length and width. You do not have to accept "high-water pants" even as a tall person. Just as hiking fans with a shorter body length do not have to accept leg wraps.
For this we offer appropriate long and short sizes. So you get a model where not only the inside length but - very important - also the proportions of upper to lower leg are right and the preformed knee of the pants matches your knee. In addition, we offer regular fit and slim-to-fit. We are convinced: Only what fits properly can also function properly.
Best freedom of movement
When you're out in nature, you're not just moving along obstacle-free paths. Rather, a step in the terrain, a tree lying across the path, a large puddle, or a crossing stream forces you to take a big step, jump or crouch down deeply. That's where freedom of movement is needed. Trekking pants are therefore cut in such a way that they allow extreme movements without any problems. At the same time, we often use elastic or even bi-elastic fabrics. This means that they follow every movement and also allow for really big steps, which are always necessary on the way to the summit.
Preformed knees
On the subject of a perfect fit and the best freedom of movement, one technology frequently used in our outdoor pants is the pre-shaped knee. Here, special darts in the knee area make the whole thing appear "crooked" when the legwear is hanging from the hanger or held up.
These so-called "pre-shaped knees" optimize the shape and support the movement when walking, especially the bending of the knee. We all know: When walking, the knee is rarely pushed through and straight but is usually more or less bent.
Functional material
Another decisive criterion that makes the difference between jeans and everyday pants is the functional material. Outdoor and trekking pants are usually made of polyamide/elastane or a polyester/elastane blend fabric that is breathable. Moisture is transported to the outside and dries quickly. While a pair of jeans soaks up moisture when wet, becomes heavy, and feels extremely uncomfortable on the skin due to evaporative cooling, the functional fiber absorbs almost no moisture, remains light and dries quickly when the downpour is over.
Abrasion resistance
Being out in nature can be tough at times. Abrasion resistance is required. When hiking you often come into contact with stone, rock, bushes, trees, thorns, etc. That's why the durable fabric is important. Fabric that does not tear and does not tear further. Especially abrasion resistant, polyamide fabric or grid woven ripstop materials show here very robust. The feet can chafe on the boot, or on its hooks and eyelets. Therefore, touring pants also have reinforced abrasion protection. They are so designed for use in more extreme terrain in combination with heavier hiking boots.
Waterproofing
Good pair of trekking pants offer weather protection. Not only is our waterproof, but all other garments, therefore, having an appropriate impregnation. It ensures that rainwater beads off, and hikers are effectively protected against a shower. Since 2018, we sell only environmentally friendly textiles (PFC-free impregnated), that is, free of perfluorinated or polyfluorinated chemicals. This very durable impregnation, which survives many washes, can be reactivated by heat - e.g. in the dryer. Specialty retailers offer appropriate agents for PFC-free reimpregnation.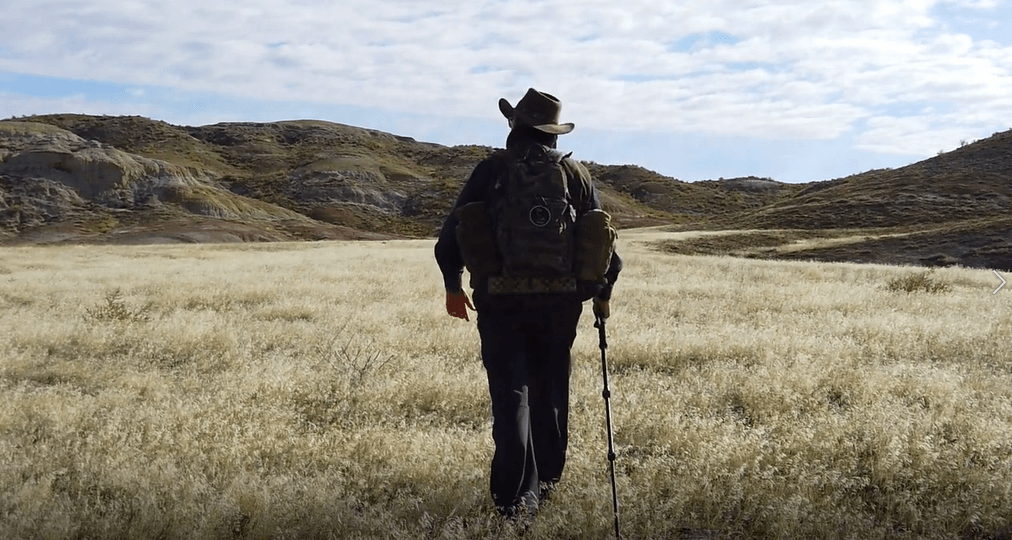 6. Tips
With all these factors, the question often arises whether you now need new hiking pants for each of your tours, which are tailored exactly to this purpose. So think in advance what kind of tour and what other purpose you want to cover. Basically, the more functions, the fewer parts you need to take with you on your tours.
For long trips, for example, a zip-off version made of quick-drying and lightweight soft-shell is best suited, as you are thus prepared for a wide range of weather conditions.
If you are more likely to be out in the woods and would also like to use them for fishing, hunting or camping, robust cargo pants made of cotton blend fabric are suitable. These can withstand scratchy thorny bushes or flying sparks at the campfire longer than thin synthetic pants.
If you're a big fan of walks and day hikes or like to wind down the day at the restaurant, hotel, or hostel on your tours, the straight-through length is the right choice. They offer you protection from the sun and wind, dry quickly when you start to sweat and cut a figure suitable for everyday wear in the city.
But the most important criterion is still: You have to feel comfortable in your clothes! Everything else is secondary.
Functional textiles should be impregnated regularly.